Home Again
Hello,
So it has been a bit since the last post but that was because I was in Missouri visiting friends. I wish I went to my sister's instead. The beginning was fun as we drove around, talked, and stuff like that. We saw the movie "Hitman's Bodyguard" at a cool theater that served you food like at a restaurant but you could still get popcorn and snacks if you wanted to. Every night ended with watching an anime film which, to be honest, were kinda boring to me. I believe they were called
Kiki, Porkchanto,
and the last one I don't remember as I fell asleep watching it.Then monday rolls around and I wake up at ( am waiting for them to wake up. Today we were supposed to play d&d. So I wait and as I'm waiting I read about
Robotech
as it kinda interests me only because I played a PS2 video game called
Robotech: Invasion
. Turns out there is a 80s anime about that stuff so I might watcvh it. Anyways, they wake up around 11 and they get ready to smoke weed. I don't do this stuff so I leave to have breakfast at Dunkin Donuts and I drive around looking for some woods to hike in and shoot fire works. Sadly I never found that. I return to their house around noon/ one o'clock and see that one of them is in the shower and the other is sleeping. Then the one in the shower goes to sleep as well. They ordered pizza earlier and they both eat it in their rooms and I eat it alone in the kitchen. After eating I head to the rooms to see they are both asleep again. I begin to read more on my phone. Once 2 o'clock comes by they both "wake up" and sit there groggily on their phones. I asked them if they wanted to do something and they decline. So I lied and told them that work called me in tomorrow and left. I returned some of the D&D stuff for $43. Overall the trip wasn't that fun. The drive home, which should've been 8 hours, was 11 hours long but it went by fast as I drove through day, night, storm, and calm. I realized as I was driving that they had cracked some of my new CD cases. Then I arrive home to see that the roof is fixed but the plumbing is still having problems and I have to take apart the deck. Great. When I get to the cats room (where I sleep) I see many packages on the floor that I did not order. Thanks dad.
So, you can't tell there is a box of Teutonic knights, a box of Indians, a box of Tidewall Shield Line, and a small bag of battlefield markers to keep track of orders given to your troopers. I think they are cool and I'm going to ask my dad what his ideas were for the Indians and for the Teutonic knights. I wonder if he has been reading these posts? :)
I've been thinking... I'm going to finish painting my Ebay T'au and everything else before I begin buying more stuff as working on terrain has been easy and this break from painting anything has made me want to paint even more stuff. I've also thought of some cool ideas for my various eBay T'au Fire Warriors.
So I was just taking a break to look at the figures I've gotten. The indian box has 24 indians. Thats alot! I wonder if I should use these as kroot or if I'm supposed to use them with the Imperial Guard army as something? (Conscripts?) The Teutonics come with 12 models (+12 if you count the Horses). The tide wall comes with the tide wall. I have to look at the rules to see how this works in the game.
As I'm trying to wind down before I go to bed I'm thinking of what I need to buy for tomorrow... Super Glue and maybe more PVA glue for gluing terrain paste. One thing I found while browsing my phone is a cool workstation made of wood. Its reasonably priced but from the UK so it would take a long time to get here. I think I'll get it though or build something similar as its make of MDF board.
Here it is: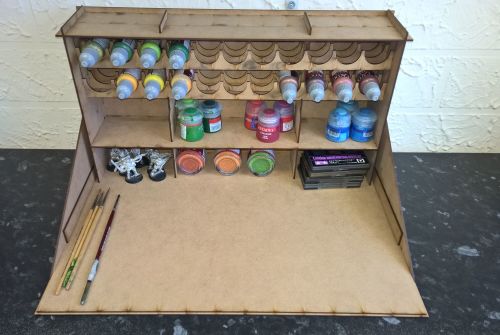 The price for this beauty is:
£16.49
or $21.22. I think it will be worth it. You can get it here. I also like their integrated terrain that has lights in it. I was thinking of buying them but I realized I could make some if I wanted as I can go to this site. What I was thinking of doing was making the classic capture points from Star Wars Battlefront out of clear plastic and a simple foam or cardboard base with the LED in the bottom. Now some of the buildings are really good looking though and if you add a little paint they would look even better! Oh thats another thing I'd need to buy is more cheap paint for terrain only so I don't have to use my miniature paint for terrain. Well its time to go to sleep as its 2AM.
Good night and I hope you return.
"Jonah"